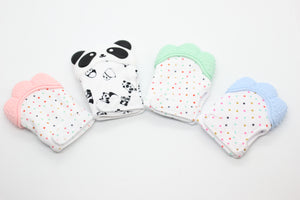 Teething Mitt features: 

A convenient wearable teether from 3-10 months. 
Generally used as a standard soft hand fitting teether, perfect for once babies dexterity kicks in.
Strap can be used to affix to a toy tether or car seat/stroller strap for convenience.Soft and flexible teething surface made of 100% food-grade silicone, BPA Phthalate free.
Safety tested to exceed all federal safety requirements, including CPSC, ATSM regulations and the most current CPSIA. 
Easy access for baby to self soothe their teething pain. 
Flip mitt and make sure thumb area is always where baby's thumb is.
Protects baby's hands from skin damage from excess saliva and chewing.
Sensory stimulating crinkle noise throughout mitt, black and white pattern bright colors.
Secure adjustable strap.
Washing Instructions: Wash regularly to remove saliva from fabric and silicone.
Quick Wash: Hand scrub inside and out with scrub brush, dish soap, rinse, ring out and place in dryer on medium cycle.Machine wash with babies other fabric items. Machine dry on very low/no heat fluff or delicate cycle then air dry if interior is still slightly damp. Do not dry on hot heat or over dry. If mitt becomes damaged please discontinue use and discard.
****Do not sterilize in microwave. If dishwasher is used, place on top rack and do not keep it on heat/steam dry cycle - this will damage the mitt.****
****Do not store damp/wet with saliva or water in an air tight place.***
*** DO not leave baby un attended, monitor baby***