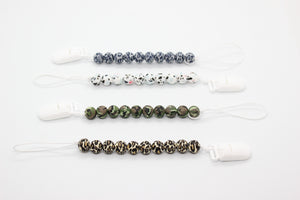 Inspired by ours, made for yours!
Choose from 4 Limited Edition colours.
Never drop that paci again! 

This makes the perfect First Soother Clip. Made with 12 mm silicone beads, allow this item to be light, flexible and wont weight the soother down, casing it to pop/fall out of babies mouth due to the weight of the beads. Perfect length for newborn and up, this will allow your babies soother to stay close by.

Made from 100% food grade silicone,squishy, non-toxic and can get to all those hard to reach places for the ultimate gum relief.
BPA free and dishwasher safe (top shelf). can even be put it the freezer for extra relief. They are non-toxic and do not promote mold growth or absorb odors, making them safe for your little one.

Made with waxed NYLON rope CORD ( PARACORD). The strongest cord around, the same as durable climbing rope, just thinner. Plastic clip allows this time to be dishwasher safe ( top rack ).

Freezer and Dishwasher safe (top rack only).


These have been independently tested & certified by a third party facility, as required by Canadian Safety Regulations, to ensure they are the safest they can be for your baby.

Food grade silicone,
FDA approved and Safety Tested
CPSIA complaint

-100% Non-Toxic
-BPA free
-CPSA, CPSIA and ASTM safety compliant
-Odorless and Tasteless
-Lead Free
-Cadmium Free
-Phthalates Free
-PVC Free
-Mercury Free
-Heat Resistant
-Wipe clean with baby safe soap and water.


* A lot of care and attention has been put into ensuring safety in the construction of this item. Please Inspect the item upon arrival. Do not leave baby un attended or un supervised, supervise at all times. Do not allow baby to sleep with teether. Inspect unit often, Inspect knots and beads. Discard at the first sign of damage or wear and tear. Contains small parts. *